WeDo About the Brand
WEDO/ PROFESSIONAL is a new eco-ethical haircare brand that is on a mission to help people transition to a happier, healthier,& more sustainable lifestyle. weDo/ offers a range of vegan and cruelty-free products made from recycled material and with 100% recyclable packaging.
Created by a small group of individuals within the Wella Company with a common passion for sustainability. Co-developed with the scientists of professional haircare labs and in collaboration with hairdressers, each product has been designed with professional performance in mind, and with a minimalist approach, keeping only what's necessary to deliver the benefits.
Beyond the idea of "natural," the team at weDo/ want the brand to be as responsible and holistic as possible. We strive to achieve this by not only looking at composition and quality of ingredients, but also by looking at the sustainability of the packaging, animal welfare, and overall human impact: resulting in a brand that is truly eco-ethical.
Our range also include dual-benefit products that can be used on the hair and body. weDo/ offers high performance natural products that improve the condition of your hair, your body and the planet!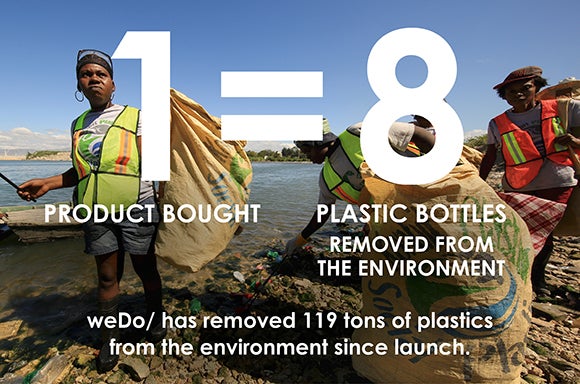 WEDO/ PLASTIC BANK PARTNERSHIP
weDo/ believe that by acting together, we will make a difference. That's why we have partnered with Plastic Bank... and you! To help fight ocean plastic while alleviating poverty.
For every weDo for every 1 product bought, 8 plastic bottles are collected from the environment and our oceans. Since the partnership began weDo have collected over half a million plastic bottles, help us in our aim to collect 1 Million bottles and remove the rubbish from our environment!